Eliminate the complexities of deposit and loan processing with our dynamic suite of products.
Available for in-branch or online origination
Customizable preferences & policies based on your bank
360° Deposit & Loan Origination in One Complete & Compliant Solution
Online and in-branch loan origination
SecureLEND is our state-of-the-art, loan origination platform, designed to modernize your bank's lending process, so your bank can increase productivity and profitability. With an intuitive interface, automation capabilities, powerful product integrations, and built-in compliance standards, SecureLEND streamlines loan origination from start to finish and empowers your bank customers to effortlessly onboard products with a simplified application and expedited approval process.
With SecureLEND, your bank can:
Accelerate processing for loan applications, verifications, credit approvals, and documentation, and cut delivery time.

Fulfill all loan activities (including credit retrievals and underwriting) without ever leaving the platform.

Automate HMDA, HOEPA, HPML and other HUD data collection and reporting.​

Drive cost-effective growth with cross-selling opportunities based on customer need.
Online and in-branch deposit origination
SecureOPEN is our powerfully, simplified account opening platform designed for community banks to streamline their customer account application process and grow their business. With built-in automation, a dynamic decision engine, and advanced integrations with i2Suite and i2Mobile, SecureOPEN saves processing time, mitigates human error, and decreases compliance risk.
With SecureOPEN, your bank can:
Personalize the applicant's experience and customize auto decisioning.

Customize specific fraud detection services to match your needs.

Set multiple product offers, run campaigns, and select product types.

Set up and customize customer email and text notifications.
In-branch account origination
If you're simply looking for an in-branch account origination option that seamlessly integrates with our i2Suite core platform, look no further than i2Deposit, the key solution for all your in-branch account origination needs. With i2Deposit, you can efficiently open accounts for your customers while enjoying the convenience of a unified system that guides you seamlessly from start to finish. Say farewell to the complexities of managing various systems and navigating multiple windows. Thanks to i2Deposit's seamless integration with i2Suite, you can effortlessly streamline the entire process with confidence and serve your customer more proficiently.
With i2Deposit, your bank can:
Create new accounts and sync information to the core seamlessly.

Reduce errors with single-entry and pre-populated information.

Stay compliant with verification and approval procedures in place.

Generate required doumentation, either electronically or in PDF format, with i2Suite's seamless Trustage integration.
Partnering With TruStage for Compliance Documentation
To ensure our account origination suite meets the banking and financial services industry's secure banking requirements, we've partnered with TruStage to provide a fully compliant document delivery system. Backed by extensive experience in financial transaction data analysis and documentation, TruStage provides end-to-end document solutions that can be customized and configured to fit all servicing and loan transactions. Plus! This documentation can be integrated with the core! No need to search for the correct forms; TruStage has you covered!
Count on One Solution for All Your Origination Needs
Delight your customers and stay competitive with an all-in-one, compliant solution.
IBT Apps i2OLB – Digital Banking
Attract and retain customers with secure account access and management, anytime, from anywhere. The i2OLB platform offers your customers a range of deposit accounts to suit their needs.
IBT Apps i2Core – Core Processing
View all your financial institution's customer information, relationships, and documents in one place with IBT Apps' i2Core platform.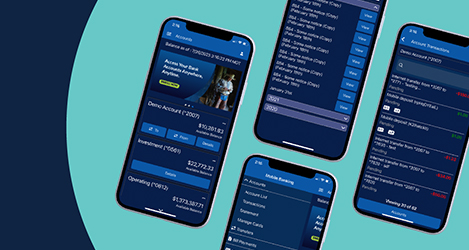 IBT Apps i2Mobile – Mobile Banking
With i2Mobile, you can delivers a dynamic mobile experience to your customers, enabling them to securely and reliably access their accounts and manage their finances more effectively.