The #1 Seamless and Secure Mobile Banking App Built
for Community Banks
Empower your customers with access to real time transaction data and secure account management at any time, from anywhere.
Our cloud-hosted solution puts compliance and dependability first, giving your customers and your financial institution peace of mind when banking online.
Take advantage of i2Mobile's key features:
Enhanced User Experience
Providing a simplified, user-friendly experience, our app enables your customers to effortlessly navigate to their desired banking actions.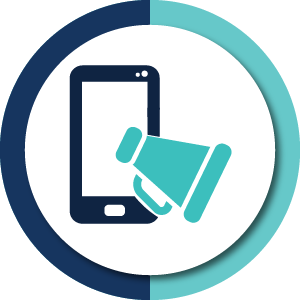 Tailored Ads for Key Offerings
In-app advertising allows you to engage with your customers and showcase tailored solutions based on their interests and needs.
Secure and Reliable Protection
Using the highest level of encryption, with two-factor and biometric authentication, i2Mobile provides a safe environment for all of your customers' transactions.
A Seamless Banking Journey
Integrating i2Mobile with our i2OLB online banking platform ensures your customers' banking information is current and accurate with real-time transaction updates.
Powered by forward-thinking technology, our mobile banking app offers a wide array of features that revolutionize the way your customers handle financial transactions.
See the possibilities of i2Mobile:
With i2Mobile, you're able to see all the activity in your account(s). From seeing all your transactions in real-time to viewing check images after making deposits, you'll appreciate the timeliness and convenience of this banking app.
Features include:
View all of your accounts and account details.

View all transactions.

See all check images.

View, email, and print statements.

Manage cards (dependent on card provider).
View, email, and print PDF statements
Manage cards (Dependent on card provider)
Submit transfers immediately or in the future
Confirm transfers before submitting
Manage accounts for transfers
With our i2Mobile banking app, transferring money has never been easier. Enjoy a hassle-free and secure way to transfer funds between accounts with just a few taps.
Features include:
Easily create transfers between accounts.

Set a frequency for transfers (once, daily, weekly, monthly).

Have the option to include a reason for transfers.

Search and review pending and scheduled transfers.

View transfer history.
Submit transfers immediately or in the future
Confirm transfers before submitting
Manage accounts for transfers
i2Mobile's Bill Pay feature allows you to conveniently schedule and manage all your bills in one place. Plus, with advanced security and encryption, you can rest easy, knowing your transactions are protected.
Features include:
Create and manage payments through the calendar view.

Create payments and payees on one single screen.

Set frequency for Bill Pay (once, daily, weekly, monthly).

Navigate payment calendar by simply rotating month & year.

Manage payees for easy payments.
Say farewell to the inconvenience of traditional check deposits. With i2Mobile's deposit feature, you can securely snap photos of your checks using your smartphone camera and deposit them into your desired account within seconds.
Features include:
Direct camera controls support mobile deposit images.

Create deposits to any account.

View pending deposits and deposit history.
i2Mobile's personalized alerts feature provides real-time updates and keeps you informed about your account activities, ensuring you never miss a beat when it comes to your finances.
Features include:
Create and customize alerts to suit your preferences.

Edit, delete, and view previously created alerts.

Have the option to include a description for alerts.

Choose one or multiple accounts for each alert category, all in the same view.

Manage e-delivery methods (email or text message).
Create alerts from a preset list
Select desired alerts from a preloaded list
Preset departments for easy message routing
i2Mobile provides seamless communication for you and your customers. With this feature, your customers can interact with your bank quickly and securely, ensuring that all communication remains confidential.
Features include:
Provides employees the ability to securely send documents for review.

Customers can send messages to preset departments on account changes and provide feedback to your bank.

Customers can view previously sent messages in the inbox and outbox.
Preset departments for easy message routing
Provide your customers with security, control, and convenience, all in one mobile banking app. That's i2Mobile.
"We're often told that the products we're offering are as good, if not better, than their previous [big] bank experience."
Mike Sale, CEO
The Commercial Bank
Online mobile banking available anytime, anywhere
Connect with us to discuss i2Mobile, the mobile banking solution for community banks.
How to Select the Right Banking Technology for Your Business
This ebook helps you sift through all the fintech chatter about the latest and greatest technology developments, so you can decide what will truly benefit your business.
A Short Guide to API Banking, BaaS, and Open Banking with Fintechs
Community banks can (and should) start considering API-based banking solutions. Read this short guide to learn the benefits and how to get started. No downloaded needed!
First National Bank – Eagle Lake, TX
Learn how this community bank provided a one-stop shop experience using integrated technology and responsive service.